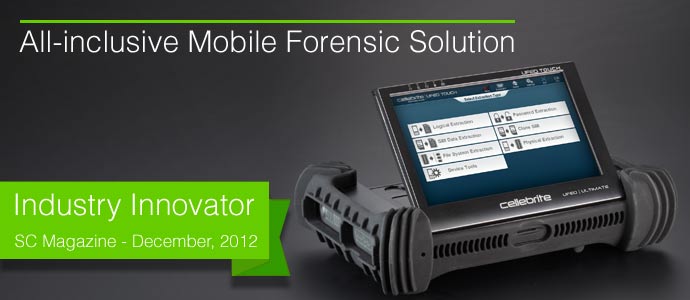 Cellebrite's new generation mobile forensic solution, UFED Touch Ultimate, enables the most technologically advanced extraction, decoding, analysis and reporting of mobile data. It performs physical, logical, file system and password extraction of all data (even if deleted) from the widest range of devices including legacy and feature phones, smartphones, portable GPS devices, tablets and phones manufactured with Chinese chipsets.
With proprietary hardware, an integrated battery, an intuitive GUI and touch screen, the UFED Touch Ultimate speeds up the investigation process, meeting the demands of the mobile forensic industry.
The UFED Touch Ultimate solution comes with a range of applications, invaluable for investigators to close cases faster:
UFED Physical Analyzer – The advanced application for decoding, analysis and reporting
UFED Phone Detective – For instant mobile phone identification
UFED Reader – Enables authorized personnel to share information with others
Highlights:
Streamlined for mobile forensics – Touch screen and intuitive GUI – Purpose designed for efficient work flow and fast processes
Unrivaled device support – BlackBerry, iOS, Android, Nokia, Symbian, Microsoft Mobile, Palm, phones manufactured with Chinese chipsets and more
Packaged for portability – All-inclusive field-ready operational kit – New peripherals and accessories with an integrated battery enabling up to five hours of operation away from power sources
Physical extraction, decoding and analysis of invaluable data – Call history, SMS messages, contacts, calendar, email, chat, media files, geo tags, passwords, location information (WiFi, cell tower and navigation applications) GPS fixes etc.

UFED CHINEX, Your Most Powerful Solution for Chinese Phone Forensics.
Cellebrite's UFED CHINEX is the finest physical extraction solution for Chinese manufactured mobile phones.
Rising to the challenge of the overwhelming quantity of Chinese manufactured mobile phones flooding the international market, Cellebrite's UFED CHINEX offers an end-to-end solution for the extraction and decoding of vital forensic data from these devices.
UFED CHINEX is a field-ready solution, which extends and enhances the UFED Series, confirming Cellebrite's position as market leader.
UFED CHINEX boasts the following features:
Physical extraction and decoding amongst a vast range of Chinese phones
The extraction is based on Cellebrite's proprietary boot loaders, ensuring a forensically sound process
Decoding and deep analysis with the UFED Physical Analyzer including, Call Logs, SMS, MMS, Video, Images, deleted data, GPS fixes and much more
UFED CHINEX offers a complete solution containing everything you need, whether in the lab or the field. From a single adapter to an easy to carry case, Cellebrite takes care of the smallest details, leaving you with hassle-free, reliable, data extraction equipment.
The UFED CHINEX kit contains:
Enhanced phone adapter
Adapter cables
A large selection of individual connectors
USB Cable
Quick User Guide