XRY Complete
XRY Complete is the all-In-one mobile forensic system from Micro Systemation; combining both our logical and physical solutions into one package. XRY Complete allows investigators full access to all the possible methods to recover data from a mobile device.
XRY is a purpose built software based solution, complete with all the necessary hardware for recovering data from mobile devices in a forensically secure manner. With XRY Complete you can achieve more and go deeper into a mobile device to recover vital data. With a combination of logical and physical analysis tools available for supported devices; XRY complete can produce a combined report containing both live and deleted data from the same handset.
The XRY system is the first choice among law enforcement agencies worldwide, and represents a complete mobile forensic system supplied with all the necessary equipment you need to perform a forensic examination of a mobile device – straight out of the box.
The supplied XRY software application runs on Windows and is powerful enough to deal with all of the modern demands of forensic examiners. The user interface is simple to navigate, with a user friendly wizard designed to help guide you through the entire process from start to finish, so you can immediately start to recover data with confidence.
XRY Field Version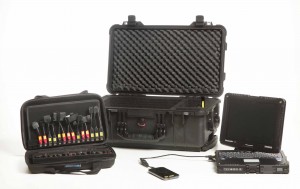 The XRY FIELD VERSION is ideally suited for mobile units in demanding conditions. This equipment is designed for first responders in the field, such as military intelligence crime scene investigators and international organizations, such as United Nations peacekeepers.
Such organizations often require portable, self-sufficient forensic kits which are flexible, quick to use and easy to link to headquarters or remote computers. The Field Versions incorporate all of these features – with hardware and software combined to perform a complete and rapid analysis for the vast majority of mobile devices available today. Customers enjoy the security of working with a solution in which all the components work together effectively in a single device solution, significantly minimizing problems and support issues.Both versions of the Field Version available – both devices meet the tough Field Version specifications of MIL-STD – 810G and IP65 compliance.
XRW
The XRW computer is an ultrarugged mobile 10-inch widescreen Notebook running Microsoft Windows 7 Ultimate operating system and features an Intel Atom 2.0 GHz processor with 64GB Solid State hard drive and 2GB of DDR2 RAM.
Portability combined with a full keyboard – this tough and light weight unit is the perfect all-round solution for users on a budget.
CF-19
The CF-19 is the ultimate Field Version solution; a fully rugged convertible Toughbook featuring a revolutionary LCD screen that transforms from a high-performance notebook to a fully portable tablet PC. With an Intel® Core™ i5 processor delivering high performance with a 320GB HDD and 4GB RAM.
This top end device has a high-power battery allowing for a running time of up to 9 hours and a magnesium alloy case.