UltraDock v.4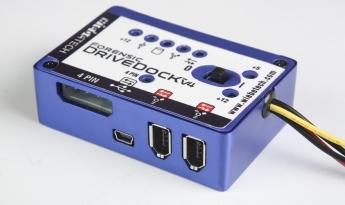 Professional Hard Drive Imager
Forensic UltraDock is WiebeTech's premium Forensic Dock. With five ports on the host side, native PATA and SATA drive connections, two power options, a recessed on/off switch guard, 8 status LEDs in a strong and rugged aluminum enclosure, Forensic UltraDock is the leading forensic field imager.
Write-blocked access through eSATA, USB or FireWire
Now WiebeTech's proprietary write-blocked technology offers easy read-only access to suspect hard drives through eSATA as well as USB and FireWire 800/400 for maximum versatility. Download and image contents of a suspect drive without risk of data being written back to the drive. And it's fully compatible with forensic acquisition and analysis software.
HPA/DCO detection included
Various software applications exist which allow a user to create or modify a Host Protected Area (HPA) or Device Configuration Overlay (DCO) table on a hard drive
Even more LED indicators to monitor data transfer, including write-block feature
An LED indicator assures you that write-block technology is active and protecting the data. Generation 4 is loaded with other indicators: FireWire attached, USB attached, +12V input jack active, disk drive power input jack active and +5V/+12V output active.

Rugged design, built to last
Grab it and go – Generation 4 is tough as nails and built to last. The small and rugged case is built from aluminum for durability.