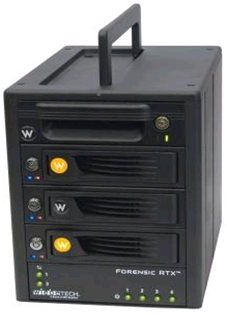 When you need to analyze evidence or image drives in the lab or field, the Forensic RTX is the solution. This desktop-based storage enclosure allows investigators to examine 3.5″ IDE/PATA or SATA drives in easy-to-use write-blocked bays and copy data onto SATA drives. Use the unit in the lab, or carry it with the heavy-duty handle that allows for easy transport.
Write-blocked drive bays prevent data from being written back to the drive. Write-block support is provided via WiebeTech's proprietary write-block technology that offers easy read-only access to suspect hard drives through high speed FireWire 800 (400 compatible), USB2, or eSATA interfaces. WiebeTech's write-block technology is compatible with forensic acquisition and analysis software. Each bay offers both dual FireWire 800 (400 compatible) and single USB and eSATA ports.
New Feature – HPA/DCO detection now included
Various software applications exist which allow a user to create or modify a Host Protected Area (HPA) or Device Configuration Overlay (DCO) table on a hard drive. Drives 1 and 3, write-blocked for forensic analysis, will also report the existance of these otherwise hidden areas.
TrayFree™ Technology is available on the three SATA bays and makes adding drives a breeze. Simply slide in a SATA drive and shut the door. No screws, no trays, it just works. All four bays offer a lock for additional security, and the three SATA bays have shock protection for longer drive life. A sturdy aluminum case provides excellent heat dissipation and rugged durability. The attractive design takes up little desktop space.
Portable write-blocked access for SATA or PATA drives
1st and 3rd bay are write blocked
1st bay is either IDE/PATA (410 version) or SATA (411 version)
3rd bay is SATA
2nd and 4th (SATA) bays are read/write for captured data
WiebeTech's trusted proprietary write-blocked technology ensures zero writes back to the Device(s) Under Capture
Easily swap in new drives for unlimited capacity
SATA bays are shock absorbing for drive protection.
Sturdy, all-metal construction
Rugged handle for easy transport