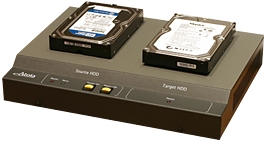 Power control
Atola DiskSense takes full control over the hard drive's power.Both units have protected power source for attached hard drives and will withstand any overload condition, including a short circuit.
Real time current monitor
5V and 12V currents are monitored separately. The data received from the monitor not only serves as a short-circuit protection, but also used for hard drive diagnostics (to detect motor damage, burnt circuits, etc). Atola Insight includes a current monitor (oscilloscope) that allows the operator to keep an eye on hard drive power consumption levels.
Emergency stop button
This button is used to terminate current operation immediately (in case when something goes terribly wrong). Available only in DiskSense USB.
Buzzer and LED indicators
DiskSense informs you about finishing a long operation (or in case of an error) with an on-board buzzer. LED indicators display the status of the HDD power, operation/error status, IDE/SATA activity (BUSY/DATA), and RS-232 port activity.
Write protection switch
The switch when it's turned on is used to guarantee that Atola Insight will never allow a write operation against source drive. Both units have this switch.
Product Features:
Fast disk-to-disk duplication (up to 5.1 GB/minute)
Data-only duplication* (*NTFS only; FAT, HFS to be added in future releases)
Case Management System
Disk-to-disk imaging
Disk-to-file imaging (DD Image with optional MD5, SHA-1, SHA-224, SHA-256, SHA-384 and SHA-512 hash calculation)
Hard Drive Password Removal
Disk-to-host imaging over 10/100/1000 Ethernet port (up to 80 MB/s)
Multi-pass data recovery imaging
Reverse imaging
Fully customizable bad-sector handling
Pause/resume session any time
Email notifications for imaging status