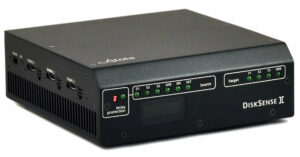 Atola Insight Forensic is a fast forensic imager with the capacity to perform
3 simultaneous imaging sessions on a wide range of media.
It also offers complex yet highly automated data recovery functions on failing storage devices and provides utilities for accessing hard drives at the lowest level. Its sophisticated software is wrapped in a simple and effective user interface.
Designed for use both in the lab and in the field, Insight is developed by a team of industry renowned data recovery engineers in collaboration with law enforcement agencies and forensic experts from around the globe.
Product Features:
Parallel imaging
Atola Insight is equipped with server-grade motherboard and CPU to sustain multiple imaging sessions at the top native speeds of the evidence drives, whether in good or bad condition.
3 simultaneous imaging sessions + multi-tasking
2 built-in 10Gb Ethernet ports
Imaging session speed up to 500 MB/s
E01, AFF4 or Raw target images created in the network or on target drives
Up to 3 targets per imaging session
Support of SATA, IDE, USB.
Via extensions: SAS, Apple PCIe (2013 – recent models), NVMe and M.2 PCIe SSDs
Built-in hardware write blocker for all source ports
Damaged drive support
All features are designed to support damaged media. In cases where other imagers stall or abort on media errors, Atola Insight can acquire a usable image. Types of damage supported: degraded or damaged heads, scratches on platters, logical errors, freezing drives, drives with worn-out magnetic layer.
In-depth automated drive diagnostics
Multi-pass imaging of damaged drives
Automated reset of freezing media
File recovery
Bad sector recovery
Segmented hashing for bad drive's image verification
HDD current monitoring for continuous diagnosis
Forensic feature set
Unknown ATA password extraction
Hash calculation (linear and segmented): MD5, SHA1, SHA224, SHA256, SHA384, SHA512
Wiping methods including DoD 5220.22-M, Secure Erase, NIST 800-88, Pattern Erase
On-the-fly sector-level artifact finder
Forensic file recovery for NTFS, APFS (with encrypted volumes), ext 4/3/2, ExFAT, HFS/HFS+, FAT32, FAT16
Case management system automatically generates detailed reports
Comparison of 1 drive against 3 drives or images
Detection and lifting of HPA and DCO restricted areas