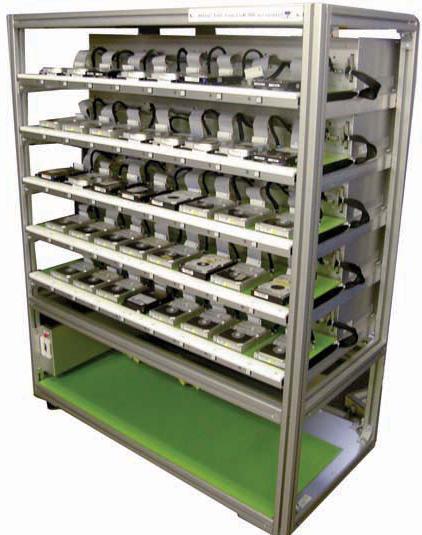 The hardware-based Rack System is a fully customizable system that can meet any customer's needs, with respect to number of ports, interface types, operations, RMA ratio, etc. Compared to similar systems, the Rack System provides the most flexibility and the best return of investment. There are three main cost savings factors to consider with the Rack System: configurability, reliability, and detection.
Because the Rack System is a custom built hardware-based system, it's very reliable. With minimal moving parts, very few items become damaged over time. In most cases, only wear items, such as interface and power cables, need to be replaced, which greatly reduces costly downtime.
Unlike software solutions, the Rack System does not rely on a PC BIOS to detect connected hard drives. Without relying on the BIOS, the operator is able to customize timeouts, retry counts, and other identification parameters to allow weak and unstable hard drives more time to be detected, which is not possible in software solutions. A higher detection rate results in more drives being able to be processed and a higher output ratio.
Supports any brand SAS, ATA/IDE, SATA*, and SCSI* 3.5″ – 2.5″ – 1.8″ – 1.0″ – 0.85″ size Hard Drive*
Hard Drive Analysis capabilities for accurately determining hard drive life expectancy
(S.M.A.R.T. testing, customized Seek testing, etc)
Automatic Bad Sector Repair to prolong HDD lifespan
(Bad sector reallocation, HPA control)
Wide range of Logical Hard Drive Test functions to guarantee HDD integrity
Every Rack System is Built To Order, so every system will meet the customer's specific needs
Customizable to support any Hard Drive Wipe (erase) sequence for secure data destruction
(Low Level Format, HIPAA, DoD, NSA, NIST, etc etc)
Ability to send any ATA command for Task Customization
(Create any possible function or chain of functions to create the most productive command sequence for your application)
Custom Reporting System for logging and inventory management
Available Auto Loaders (plug-in fixtures) for increased speed and efficiency in high-output environments
Independent Power Control to allow for complete channel isolation
Custom One-Push Button Operations to allow for customizable operations at the push of a button
Ji2 Rack System
Competitor
Price Per Port

30% less than the competion (per port)

30% more than Ji2 Rack System

Support

Great customer service
Free updates for 1 year
Free lifetime support (phone/email/web)
No licensing fees

Warranty
Maintenance

Low long-term maintenance costs

More maintenance costs than the Rack System

Features & Performance

Customizable to fit customer's needs
Independent ports (faster transfer rates and better error handling)
Easy to use Host Software (performs logging, reporting, and provides the ability to import custom scripts)

Unique features available to suit customer's needs
Complex PC-based technology (which imposes certain limits because of the systems underlying BIOS and OS)
User friendly GUI
Logging and reporting capabilities are limited

Size & Weight

Average: 300lbs
Compact and light-weight design for easy transportation