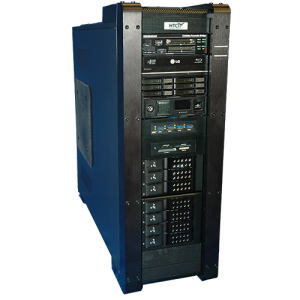 Our Forensic Workstation is a high power, great value forensic platform for all professional forensic investigators. This Digital Forensic System was designed with today's forensic investigator in mind; it combines a high-speed multi-core processor and ultra-fast memory with a high performance SSD to give you the most performance at a great value. Our all Forensic Systems are user friendly, and support all Windows based forensic platforms. Included in each system is the Data Analysis Reporting Tool kit software for complete cell phone analysis capability without any additional equipment required.
The forensic system supports IDE, SATA and Notebook drives. If your department is considering doing digital forensics and you need a lot of power in a tight budget our forensic workstation is the product for you. Only high end, powerful, energy efficient components have been used in the production of the series.
Our all forensic systems come with two forensic bridges T35689iu and  T3iu to provide the more options to forensic examiner to connect the evidence. T3iu is the latest unit of Tableau which provides higher forensic imaging speed. Our all systems are ideal to do forensic analysis of any type of evidence.
Why E-Discovery consultants are fighting with their old uncomfortable systems and IT devices? Our latest, High End, customized and comfortable systems are ideal for E-Discovery consultants to make E-Discovery process easy and enrapture.
Specifications:
A High Speed Intel i7 – 3930K Six Core Processor clocked at 3.2 Ghz (3.8 Ghz Turbo) Cooled by an Intel Sealed Water Cooling System to give you stable high-speed performance.
32 GB of High Speed High Capacity DDR3 1866 Quad Channel Memory
An NVidia GeForce GTX 650 with multi-monitor support to ensure a silky smooth experience whether you are processing cases, writing reports, or viewing evidence
A ultra-fast 128 GB SATA 6 Gbp/s SSD OS Drive to give you lightning fast access to your EDAS FOX System
A High Capacity, High Speed 2 TB 7200 RPM 6 Gbp/s Hard Disk Data Drive to store files.
Dual 10/100/1000 Mbps LAN Ports, with Teaming function allowing two single connections to act as one for twice the bandwidth.
High Speed USB 3.0, and XFast USB greatly improving the speed of the onboard USB 2.0 ports.
High Speed 6 Gbp/s eSATA Ports, giving you the fastest way to connect external devices to the system.
*NEW* 3x Hot Plug SATA Tray-less Bays, giving you access to easy to use, high speed hard drive bays for extra storage.
An Integrated Write-Blocked Multi-Card Reader to ensure forensically sound access to all types of media cards.
An integrated Write-Blocked Forensic Bridge, With USB 3.0, SATA, IDE, SAS, and FireWire Connections.
A highly efficient 1300 Watt 80 Plus Gold Certified Fully Modular Power Supply to ensure stability, and high power capacity for all your needs.
22 Inch LED Monitor
Wireless Keyboard / Mouse Combo
A Multi-Piece Toolkit to assist in Digital Evidence Collection
Tech Specs
Supported CPU
CPU Socket Type
LGA 2011
CPU Type
Core i7(LGA 2011)
CPU
Processor Number
i7-3930K
Number of CPU Cores
6
Number of CPU Threads
12
CPU Speed (Ghz)
3.2 GHz
Turbo Speed (Ghz)
3.8 GHz
CPU Cache
12 MB
Lithography
32nm
Heatsink
Intel Liquid Cooled Socket 2011 Solution
Chipsets
North Bridge
Intel X79
Memory
Number of Memory Slots
8 x 240 Pin
Memory Speed
DDR3 1866
Memory Included
32GB (4x 8GB)
Maximum Memory
64GB
Channel Supported
Quad Channel
Expansion Slots
PCI Express x16
4
PCI Express x8
None
PCI Express x4
None
PCI Express x1
1
Video Card
Chipset Manufacturer
NVIDIA
GPU
GeForce GTX 650
Memory Size
1GB GDDR5
Memory Speed
5000MHz
HDMI
1x mini HDMI
DVI
2x DVI
Storage Devices
SATA 3Gb/s
4
SATA 6Gb/s
8
Storage Configuration
OS Drive
128 GB SATA 6 Gbp/s SSD Drive
Temp Drive
128 GB SATA 6 Gbp/s SSD Drive
Data Drive
2 TB 7200 RPM 6 Gbp/s Hard Disk Drive
Onboard Video
Video Chipset
None
Onboard Audio
Audio Chipset
Creative Sound Core3D quad-core sound and voice processor
Audio Channels
8 Channels
Onboard LAN
LAN Chipset
Broadcom BCM57781
Second LAN Chipset
Broadcom BCM57781
Max LAN Speed
10/100/1000Mbps
Rear Panel Ports
PS/2
1
USB 1.1/2.0
6x USB 2.0
USB 3.0
4x USB 3.0
1394a
1
1394b
2
eSATA
2x eSATA 6Gb/s, 2x eSATA 3Gb/s
S/PDIF Out
1
Audio Ports
8 Channel
Front I/O Ports
USB 1.1/2.0
2x USB 2.0
USB 3.0
4x USB 3.0 (2 Top Mounted, 2 Front Mounted)
eSATA
1x eSATA
Front Audio
2x Front Audio (Headphone and Microphone)
Front Mounted Bays
Optical Disk Drive
1x Blu-Ray Burner Drive with Lightscribe
SATA Trayless OS Drive Bay
1x SATA Trayless
SATA Trayless Data Drive Bay
1x SATA Trayless
Front I/O Panel
1x 2 Port USB 3.0 Panel
Multi-Card Reader
1x Write Blocked Multi-Card Reader
Forensic Bridge
Tableau T35689iu (USB 3.0, SATA, SAS, IDE, and Firewire 800)
SATA Bay
3x SATA 3.5″ Trayless Bays
Internal I/O Connectors
Onboard USB 1.1/2.0
3x USB 2.0 Headers
Onboard USB 3.0
2x USB 3.0 Headers
Onboard 1394
1x 1394a Header, 1x 1394b Port
Front Audio Header
1x Front Audio Header
Features
On-Board Power Button
Yes
On-Board Reset Button
Yes
On-Board CMOS Clear
Yes
On-Board Diagnostic LED
Yes
PCI Express Revision
3.00
Operating System
Windows 7
64-Bit Ultimate
Power Supply
Maximum Wattage
1300 Watts
80 Plus Certification
80 Plus Gold Certified
Modular
Fully Modular Power Supply
Software Pre-Installed
Data Analysis Reporting Tool
HTCI DART- demo
Browser
Mozilla Firefox
Browser
Google Chrome
Browser
Internet Explorer
DVD Software
Cyberlink Blu-Ray Software
System Dimensions
Width
9.06 Inches
Height
24.33 Inches
Depth
26.10 Inches
Weight
65+ Pounds
Peripherals Included
Monitor
22 Inch LED Monitor
Keyboard / Mouse
Wireless Combo
Sim Card Reader
USB Sim Card Reader
Tool Kit
Multi-Piece Toolkit to assist in Digital Evidence Gathering