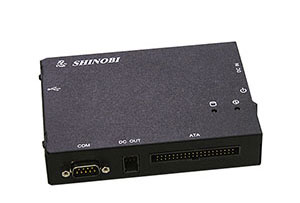 The Shinobi SSD Secure Erase Station is an easy to use tool for wiping SSD (Solid State Drive) using the ATA Secure Erase command. The erase procedure is quick and provides results in minutes.
Solid State Drive (SSD) Eraser
Solid state drive erasing is quite different from hard drive due to the way data is stored. Limitations to traditional wipe methods are due the drives closed memory management system. Our solution, the SSD Secure Erase Station enables the drive's built-in Secure Erase function to be executed via a standard ATA command. Although drive manufacturers' support for the Secure Erase command is not as common in solid state as it is in hard drives, we find this to be the best wipe process available on the market today. The Shinobi SSD Secure Erase will perform process this with ease.
Overall Efficiency
The Shinobi was designed as an affordable and accurate erase solution with the ability to customize operations for maximum efficiency for SSD wipe requirements.  The end result is a user-friendly product that allows the user to quickly perform erasures on a large number of solid state drives.
Benefits
Easy to use
Low cost
Advanced logging and reporting features
Compact: more portable than PC-based technology
Hot-swappable: no need to restart the machine to switch drives
Functions:
Compatible with all ATA and SATA SSDs
User-friendly host software
Automated logging and reporting system
Customizable erase/wipe operations