Hard Disk Recycler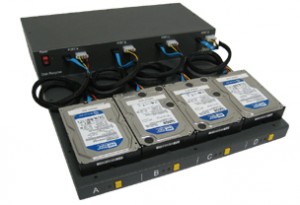 The Disk Recycler offers reliable implementations of industry wipe standards, custom processes, bad sector reallocation, system scalability, and detailed reports for achieving optimum production.  Customized scripts are user created by intuitive menus and tools and customized reports pull from numerous operational data.  The Disk Recycler units can link together as one large system or as multiple smaller systems.  Eliminate paying per each wipe forever since after purchasing our equipment it is yours to use, unlimited.  It is easy to see how Ji2 moves to the next level with the Disk Recycler by tapping more than a decade of exceptional design experience.
Features:
Native SATA Interface with IDE by Adapter

Full Reporting Capabilities:
A Log File Generated for Each Job
CSV Summary Report for All Jobs by Serial Number, Model, etc.
One Button initiates your Powerful Scripts for Easy Operator Control
Clear Indicators Continuously Status Each Port  Operation
Link 10 Units for 1 x 40 Port System or Mix and Match for Multiple Smaller Systems
Easy-to-Build Scripts to Optimize your Processes
Fast Architecture Design for up to 18GB/min (4-6 GB/min Typical HDD)
Quickly Identify and Replace Bad Drives for Maximum Throughput