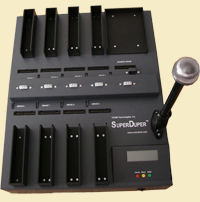 1:8 Hard Drive, Stand-Alone Duplicator
Summary Description:
It is the product which offers high speed cloning speed to their operators. This unit is very useful for system administrators, backup engineers, PC production units and duplication houses.
There is no match of this device in duplication vertical. Users can operated it very easily because it is very simple and easy to operate.
This device can work in auto mode condition because it comes with light indicators mounted on it's top to indicate the status of process.
Duplicates from 1 drive to 8 different drives at once,
Runs at data transfer speeds of up to 5.2 GB per minute per drive,
No slow down in performance whether duplicating to 1 or all 8,
Designed with built-in write blocker for source drive,
Uses SHA256 hash verification algorithm to ensure destinations are identical to source,
ATA/SATA ports built-in ports.
Image (files/operating system/software only) or Clone entire drive,
Wipes up to 8 drives at once to Dept. of Defense Specs, and
Requires minimal training.
Anti-static drive slots – protect hard drives,
Quick, friendly and reliable technical support provided