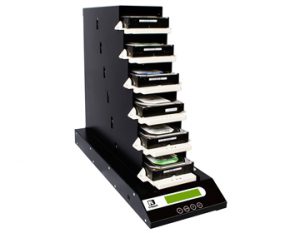 Flexible productivity, use one station for 5 targets or link multiple stations up to 250 targets.
High performance of up to 9GB/min* transfer speed per minute. (Real performance depends on HDD speed)
Supports up to 9TB capacity of Hard disk drive.
Data Sanitization: quick erase, full erase, secure erase, and DoD erase.
Features high security level of data sanitization: DoD erase and Secure Erase.
Supports 3.5"/2.5" SATA/SSD, mSATA, eSATA, ZIF, iVDR interface.
Event Log report records all task details for better production management and yield analysis.
Daisy-Chain technology makes production more efficient as the number of connections increase. (Patent No.: US 9,349,408 B2)