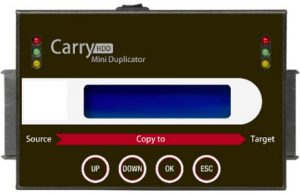 Speed transfers of up to 7.2GB per minute.
Auto skip up to 6000 error sectors of on the HDD.
Auto power control protects your HDD. (HDD is only powered during operation)
Supports 2.5″, 3.5″ SATA HDD, SSD and IDE HDD via IDE_SATA convertor.
Supports 4 different duplication modes: Quick Copy (System & files), All partitions, Whole HDD and Percentage.​​​​​​​
Data Sanitization: Quick erase, Full erase, Secure erase, and DoD erase.